ORCHESTRA's 2nd General Assembly
06.04.2022
Partners were presenting one year of dedicated work to build up research infrastructure and conduct research on COVID-19. Large-scale European and international cohort research in the spirit of collaboration. 10 presentations from ORCHESTRA partners, more than 110 people attending. Great appreciation goes to the teams for their constant work and also to the Advisory Panel, Ethics Board and European Commission for the support and advice.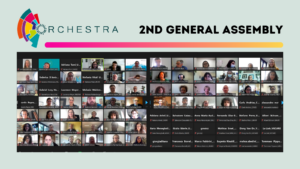 ORCHESTRA's leader, Prof. Evelina Tacconelli, welcomed the attendees and gave a project update. From the side of the European Commission, Stefanie Sowinski reported on "Cohorts united against COVID-19", an initiative of coordination and collaboration of EU-funded projects establishing COVID-19 cohorts in Europe and beyond. Gabriella Scipione from CINECA presented the highlights of Work Package 7, responsible for data management – a major task in the project. Laurence Meyer from INSERM spoke for WP3 – Population-based cohorts working on Infection risk factors focusing on assessment of genotypic and microbiome analyses and intra-household transmissions. Evelina Tacconelli from the University of Verona, leader of ORCHESTRA and Work Package 2, presented the work on long-term consequences. WP4 – Fragile population cohorts explores protection and treatment interventions for fragile populations, Maddalena Giannella, University of Bologna, presented for the team. Paolo Boffetta, University of Bologna, explained why health worker cohorts – WP5 – are particularly interesting for evaluation: High exposure risk, good exposure data, early vaccination experience and medical surveillance. WP6 – Biobanking, genomics and virus-host interactions assesses the microbiological epigenetic aspects of COVID-19. Surbhi Malhotra-Kumar from the University of Antwerp spoke for WP6. Jan Hasenauer, Helmholtz Munich, presented the work of WP8 – Statistical/Cost Analysis and Modelling, which includes standardising the analysis workflow, creating statistical analysis plans, assessing data quality (e.g. checking for outliers and inconsistencies) and semi-automated reporting. WP9 – Global COVID-19 guidance assesses the ORCHESTRA research and draws medical and scientific recommendations from it. Daniele Pantano, University Medical Center Groningen, reported for WP9. Wp 10, responsible for dissemination, was presented by Janne Vehreschild, University Hospital of Cologne.
ORCHESTRA is a collaborative project and the speakers presented on behalf of the entire team. You can find all partners
here
.
###