Association of Patients' Epidemiological Characteristics and Comorbidities with Severity and Related Mortality Risk of SARS-CoV-2 Infection: Results of an Umbrella Systematic Review and Meta-Analysis
30.09.2022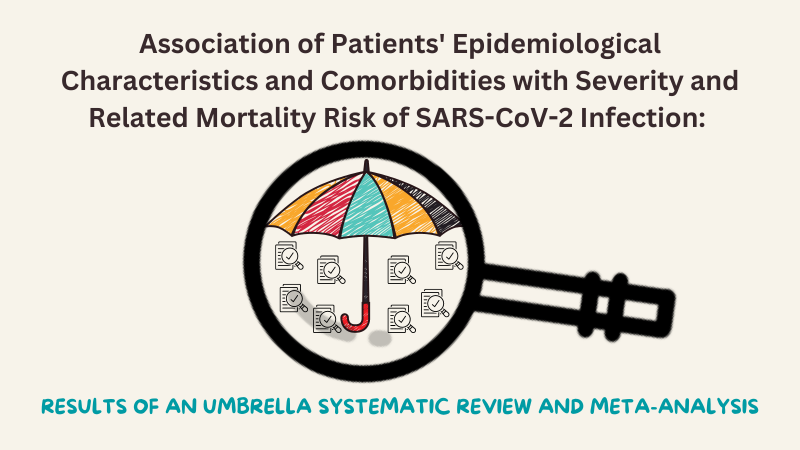 This publication has been performed by Work Package 2. This publication was produced by Work Package 2. The responses were given by Maria Giulia Caponcello, Clinical Research Associate, Servicio Andaluz de Salud, SAS.
What is the specific research question and what did you look at?
Our aim was to assess the association between patients' epidemiological characteristics and comorbidities with SARS-CoV-2 infection severity, risk of hospitalization and related mortality risk.
What type of study did you perform?
This is an umbrella systematic review. An umbrella systematic review assesses previously published systematic reviews. A systematic review screens and evaluates publications to a certain topic in a structured way.
How long did it take to get results?
One year approximately.
What are the results?
We found that patients with age over 60 years, smoking habit, and chronic pulmonary disease had higher risk of hospitalisation due to COVID-19
Moreover, chronic pulmonary disease, cerebrovascular disease, and cardiovascular disease were likely to be associated with increased risk of critical COVID-19.
Finally, the highest risk for mortality was associated with cardiovascular disease, cerebrovascular disease, and chronic renal disease.
Was there anything unexpected or surprising that you found?
No, but we provide data to assess patients who would be at risk of a more severe course of infection and who would therefore benefit from earlier treatment.
Who (which group of the population) benefits from your research?
As mentioned above
What are your recommendations?
Carefully assess all risk factors that are associated with more severe SARS-CoV-2 infection in all patients to decide what is the most appropriate treatment in each case. The aim is to make medicine personalised now that the number of cases is manageable.
###